Privacy Policy

Trattamento dei dati personali ai sensi dell'art. 13 REG. UE 679/2016
La presente Privacy Policy ha lo scopo di descrivere modalità ed avvertenze di gestione di questo sito, ai fini della tutela dei dati personali degli utenti/visitatori che lo consultano.
Si tratta di un'informativa che è resa anche ai sensi dell'art. 13 GDPR 679/2016 – Regolamento Europeo in materia di privacy, nonché ai sensi del Provvedimento in materia di cookie n. 229 dell'8 maggio 2014, a coloro che si collegano al sito di www.oculistacrocemaristella.it. l'informativa non si riferisce ai siti eventualmente raggiungibili attraverso link presenti sul sito indicato.
Titolare del trattamento
Il titolare del trattamento dei Suoi dati personali è: dr.ssa Maristella Crocé, via doberdò 24/18 Trieste p.iva 00933720328
Finalità del trattamento, tipologia di dati e relativa base giuridica
I dati saranno trattati unicamente per le finalità e con riferimento alle basi giuridiche di seguito riportate.
a) Dati di navigazione
I sistemi informatici e le procedure software preposte al funzionamento di questo sito web acquisiscono, nel corso del loro normale esercizio, alcuni dati personali la cui trasmissione è implicita nell'uso dei protocolli di comunicazione di Internet. Si tratta di informazioni che non sono raccolte per essere associate a interessati identificati, ma che per loro stessa natura potrebbero, attraverso elaborazioni ed associazioni con dati detenuti da terzi, permettere di identificare gli utenti/visitatori. In questa categoria di dati rientrano gli indirizzi IP o i nomi a dominio dei computer utilizzati dagli utenti che si connettono al sito, gli indirizzi in notazione URI (Uniform Resource Identifier) delle risorse richieste, l'orario della richiesta, il metodo utilizzato nel sottoporre la richiesta al server, la dimensione del file ottenuto in risposta, il codice numerico indicante lo stato della risposta data dal server (buon fine, errore, ecc.) ed altri parametri relativi al sistema operativo e all'ambiente informatico dell'utente. Questi dati vengono utilizzati al solo fine di ricavare informazioni statistiche anonime sull'uso del sito e per controllarne il corretto funzionamento e vengono cancellati immediatamente dopo l'elaborazione. I dati sui contatti web non vengono conservati, comunque, per più di sette giorni, salvo eventuali accertamenti di reati informatici ai danni del sito e non vengono in alcun modo né comunicati né diffusi all'esterno se non per obbligo di legge.
b) Dati forniti volontariamente dall'utente
Qualora gli utenti/visitatori, collegandosi a questo sito, inviino propri dati personali per accedere a determinati servizi, ovvero per effettuare richieste in posta elettronica, ciò comporta l'acquisizione da parte di oculistacrocemaristella.it dell'indirizzo del mittente e/o di altri eventuali dati personali che verranno trattati esclusivamente per rispondere alla richiesta, per la fornitura del servizio o per l'invio di comunicazioni di marketing.
Nel sito, per particolari finalità di trattamenti facoltativi o per determinate tipologie di dati, sono presenti apposite informative di sintesi e richieste espresse di consenso esplicito e volontario.
Natura del conferimento dei dati
A parte quanto specificato per i dati di navigazione, il conferimento dei dati è facoltativo, tuttavia, l'eventuale rifiuto a fornire i dati le finalità indicate al punto 2 potrà determinare l'impossibilità a dar corso al servizio richiesto. In dettaglio, i dati necessari all'idonea comunicazione/informazione sono contrassegnati con un asterisco mentre gli altri sono facoltativi.
L'eventuale rifiuto a fornire i dati per finalità di marketing non pregiudicherà la regolare esecuzione del servizio richiesto.
Modalità del trattamento
La raccolta dei dati avviene nel rispetto dei principi di pertinenza, completezza e non eccedenza in relazione ai fini per i quali sono trattati. I dati personali conferiti sono trattati in osservanza dei principi di liceità, correttezza e trasparenza, previsti dall'articolo 5 del RGPD, in forma cartacea e/o con l'ausilio di strumenti informatici e telematici atti a memorizzare e gestire i dati stessi e comunque in modo tale da garantirne la sicurezza e tutelare la massima riservatezza dell'interessato. I dati possono essere oggetto di trattamento in forma anonima per lo svolgimento di attività statistiche finalizzate al miglioramento dei servizi offerti.
Categorie di destinatari dei dati personali
Potranno accedere, e quindi venire a conoscenza dei Suoi dati, esclusivamente i soggetti autorizzati quali ad esempio gli incaricati dell'area commerciale, ufficio marketing, addetti alla gestione e manutenzione dei sistemi informatici, nonché soggetti esterni che svolgono attività di web marketing o funzioni di webmaster, appositamente nominati responsabili del trattamento dei dati.
È fatta salva, in ogni caso, la comunicazione o diffusione di dati richiesti, in conformità alla legge, dall'Autorità di Pubblica Sicurezza, dall'Autorità Giudiziaria o da altri soggetti pubblici per finalità di difesa, sicurezza dello Stato ed accertamento dei reati, nonché la comunicazione all'Autorità Giudiziaria in ottemperanza ad obblighi di legge, laddove si ravvisino ipotesi di reato.
Trasferimento di dati al di fuori dell'UE
La gestione e la conservazione dei dati personali avvengono su server ubicati all'interno dell'Unione Europea. Resta in ogni caso inteso che il Titolare, ove si rendesse necessario, avrà facoltà di mutare l'ubicazione dei server in Italia e/o Unione Europea e/o Paesi extra-UE in conformità alle disposizioni di legge applicabili prevedendo adeguate garanzie (ad esempio adottando clausole contrattuali standard previste dalla Commissione Europea).
Esistenza di processi decisionali automatici
Relativamente alle finalità indicate, non sono previsti processi decisionali automatici.
Periodo di conservazione dei dati
Relativamente alle finalità indicate, i dati personali:
relativi alla navigazione sul sito sono conservati per la durata della sessione e poi automaticamente cancellati
forniti dall'utente mediante sottoscrizione del form presente sul sito internet, saranno conservati sul database del sito fino alla consegna da parte del responsabile del trattamento del report annuale e successivamente conservati dal titolare per un periodo di 3 anni, compresi i dati ricevuti direttamente sulla mail aziendale, decorso il quale vengono cancellati.
Diritti dell'interessato
In qualità di "interessato", Lei dispone dei diritti previsti dagli artt. da 15 a 22 del RGPD, ed in particolare potrà:
ottenere la conferma che sia o meno in corso un trattamento di dati personali che lo riguardano e in tal caso ottenerne l'accesso ed eventualmente una copia;
ottenere l'indicazione della categoria di dati personali in questione, della relativa origine, delle finalità del trattamento, del periodo di conservazione o dei criteri utilizzati per determinare tale periodo, l'esistenza di un processo decisionale automatizzato e informazioni significative sulla logica applicata, dei destinatari o delle categorie di destinatari a cui i dati personali sono stati o saranno comunicati;
ottenere l'aggiornamento, la rettifica, l'integrazione dei dati, la cancellazione, la trasformazione in forma anonima, la limitazione del trattamento o il blocco dei dati trattati in violazione di legge e l'attestazione che tali operazioni sono state portate a conoscenza di coloro ai quali i dati sono stati comunicati o diffusi, salvo che ciò si riveli impossibile o implichi uno sforzo sproporzionato;
ricevere in un formato strutturato di uso comune e leggibile da dispositivi automatici i dati personali che la riguardano e trasmettere tali dati ad un altro titolare del trattamento (diritto alla portabilità);
Inoltre, ha il diritto di:
opporsi, in tutto o in parte, in qualunque momento a trattamenti di dati personali:
i. effettuati nell'ambito dell'esecuzione di un compito di interesse pubblico o connesso all'esercizio di pubblici poteri di cui è investito il titolare o necessari per il perseguimento di legittimi interessi del titolare; in tali casi il titolare si asterrà dal trattare i Suoi dati, salvo che dimostri l'esistenza di motivi legittimi cogenti o l'accertamento, l'esercizio o la difesa di un diritto in sede giudiziaria;
ii. trattati per finalità di marketing diretto, compresa l'eventuale connessa profilazione.
revocare il consenso in qualunque momento. La revoca del consenso non pregiudica la liceità del trattamento basata sul consenso prima della revoca.
proporre reclamo all'Autorità di controllo per la protezione dei dati personali, Piazza Venezia n. 11 – scala B, 00186, Roma (RM) o via PEC all'indirizzo protocollo@pec.gpdp.it – per maggiori informazioni si rimanda al sito www.garanteprivacy.it.
Per esercitare i diritti previsti dal RGPD e sopra riassunti dovrà rivolgere richiesta scritta indirizzata a oculistacrocemaristella.it, in formato cartaceo a dr.ssa Maristella Crocé, via doberdò 24/18 Trieste p.iva 00933720328
Aggiornamento dell'informativa
Le presenti informazioni potrebbero subire delle modifiche nel tempo. Si consiglia, pertanto, di verificare nella sezione Privacy del sito web https://www.oculistacrocemaristella.it/privacy-policy/ che la versione a cui ci si riferisce sia la più aggiornata.
—————————————————————————–
Informativa privacy su operatività dei cookie
Navigando nel nostro sito, il navigatore acconsente all'utilizzo di cookie in conformità con la presente Cookie Policy. Suggeriamo pertanto di dedicare qualche minuto alla lettura della presente informativa.
I cookie sono file di dimensioni ridotte inviati dai siti visitati al browser utilizzato dall'utente nel corso della navigazione, il quale li memorizza automaticamente per poi rimandarli al server ogni volta che lo stesso utente ritorna sul medesimo sito web.
In generale, i cookie possono essere di vario tipo:
Tecnici o di Profilazione, a seconda della funzione per la quale sono utilizzati
Di prime parti o di terze parti, a seconda di chi li installa
Di sessione o persistenti, a seconda della durata
A) I cookie tecnici si possono raggruppare in 3 tipologie:
Cookie di navigazione o di sessione, che garantiscono la normale navigazione e fruizione del sito web.
Cookie analytics, assimilati ai cookie tecnici laddove utilizzati direttamente dal gestore del sito o anonimizzati da terze parti.
I cookie analytics vengono utilizzati per ottenere statistiche anonime e aggregate, utili per ottimizzare i Siti e i servizi offerti. Si tratta in ogni caso di informazioni che non consentono di identificare personalmente gli utenti.
Cookie di funzionalità, che permettono all'utente la navigazione in funzione di una serie di criteri selezionati.
Spiegazione e dettaglio Cookie tecnici: il nostro sito utilizza cookie di prime parti sia di navigazione che di sessione e non archivia alcun dato personale, ma anonimizza tutte le sessioni.
Il nostro sito utilizza cookie di terze parti (Google Analytics) di sessione senza l'archiviazione di alcun dato personale, ma anonimizzando tutte le sessioni. A tal proposito verificare in https://developers.google.com/analytics/devguides/collection/analyticsjs/cookie-usage
B) Cookie di Profilazione: il nostro sito non utilizza alcun cookie di profilazione.
Per disattivare, rimuovere o bloccare i cookie via browser è possibile ricorrere alle impostazioni del browser stesso.
Per maggiori informazioni consultare le pagine di "Aiuto" del proprio browser.
Privacy Policy
Processing of personal data pursuant to art. 13 REG. EU 679/2016
This Privacy Policy is intended to describe the management methods and warnings of this site, in order to protect the personal data of the users / visitors who consult it.
This is an information notice which is also provided pursuant to art. 13 GDPR 679/2016 – European Regulation on privacy, as well as pursuant to the Measure regarding cookies n. 229 of 8 May 2014, to those who connect to the institutional site of MaterialScan S.r.l. (www.materialscan.it); the information does not refer to sites that can be reached through links on the indicated site.
Data Controller
The owner of the processing of your personal data is: MaterialScan S.r.l., Via A. Valerio 6/A, I-34127 Trieste; VAT Nr. 01261130320, for the purposes of this information can be contacted at material@materialscan.it.
Purpose of the processing and related legal basis
The data will be processed solely for the purposes and with reference to the legal bases listed below.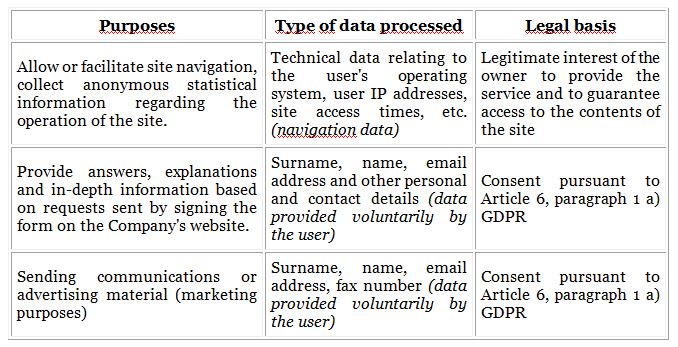 a) Navigation data
The computer systems and software procedures used to operate in this website acquire, during their normal operation, some personal data whose transmission is implicit in the use of Internet communication protocols. This information is not collected to be associated with identified interested parties, but by their very nature could, through processing and association with data held by third parties, allow users / visitors to be identified. This category of data includes IP addresses or domain names of computers used by users who connect to the site, URI (Uniform Resource Identifier) addresses of the requested resources, the time of the request, the method used to submit the request to the server, the size of the file obtained in response, the numeric code indicating the status of the response given by the server (success, error, etc.) and other parameters relating to the operating system and the user's IT environment. These data are used only to obtain anonymous statistical information on the use of the site and to check its correct functioning and are deleted immediately after processing. The data on web contacts are not stored, however, for more than seven days, except for any verification of computer crimes against the site and are in no way communicated or disclosed to the outside except by law.
b) Data voluntarily provided by the user
If users / visitors, connecting to this site, send their personal data to access certain services, or to make requests in electronic mail, this involves the acquisition by MaterialScan S.r.l. of the sender's address and / or any other personal data that will be processed exclusively to respond to the request, to provide the service or to send marketing communications.
On the site, for particular purposes of optional processing or for certain types of data, there are specific summary information and express requests for explicit and voluntary consent.
Nature of data provision
Except from that specified for navigation data, the provision of data is optional, however, any refusal to provide data for the purposes indicated in point 2 may make it impossible to start the requested service. In detail, the data necessary for suitable communication / information are marked with an asterisk while the others are optional.
Any refusal to provide data for marketing purposes will not affect the regular performance of the requested service.
Processing methods
Data collection takes place in compliance with the principles of relevance, completeness and non-excessiveness in relation to the purposes for which they are processed. The personal data provided are processed in compliance with the principles of lawfulness, correctness and transparency, provided for in article 5 of the GDPR, in paper form and/or with the aid of computer and electronic tools designed to memorize and manage the data themselves and in any case in such a way as to guarantee security and protect the privacy of the data subject.
The data can be processed anonymously for the performance of statistical activities aimed at improving the services offered.
Categories of recipients of personal data
Only authorized persons, such as those in charge of the commercial area, marketing department, information system management and maintenance personnel, as well as external subjects who perform web marketing activities or functions of webmasters, specially appointed as data processors. In any case, the communication or dissemination of data required, in accordance with the law, by the Public Security Authority, the Judicial Authority or other public subjects for defence, state security and crime detection purposes is reserved. as well as the communication to the Judicial Authority in compliance with legal obligations, where hypotheses of crime are found.
Data transfer outside the EU
The management and storage of personal data will normally take place on servers located within the European Union. In any case, it is understood that the Owner, if necessary, will have the right to change the location of the servers in Italy and / or the European Union and / or non-EU countries in compliance with the applicable legal provisions, providing adequate guarantees (for example adopting standard contractual clauses envisaged by the European Commission).
Existence of automatic decision-making processes
With regard to the purposes indicated, automatic decision-making processes are not envisaged.
Data retention period
With regard to the purposes indicated, the personal data:
relating to navigation on the site are kept for the duration of the session and then automatically deleted;
provided by the user by signing the form on the website, will be stored on the site database until delivery by the controller of the annual report and subsequently kept by the owner for a period of 3 years, including data received directly on the company email, after which they are cancelled.
Rights of the interested party
As an "interested party", you have the rights provided for in articles from 15 to 22 of the RGPD, and in particular may:
obtain confirmation that a processing of personal data concerning him is in progress and in this case obtain access to it and, if necessary, a copy;
to be informed of the category of personal data in question, its origin, the purposes of the processing, the retention period or the criteria used to determine this period, the existence of an automated decision-making process and significant information on the logic applied, the recipients or categories of recipients to whom the personal data have been or will be communicated;
obtain the updating, rectification, integration of data, cancellation, transformation into anonymous form, limitation of the processing or blocking of data processed in violation of the law and the attestation that these operations have been brought to the knowledge of those to whom the data have been communicated or disseminated, unless this proves impossible or involves a disproportionate effort;
receive in a structured format of common use and readable by automatic devices the personal data concerning him and transmit such data to another data controller (right to portability);
Furthermore, you have the right to:
object, in whole or in part, at any time to the processing of personal data:
i.carried out as part of the execution of a task of public interest or connected to the exercise of public authority over which the holder is invested or necessary for the pursuit of legitimate interests of the holder; in such cases, the holder will refrain from processing your data, unless it demonstrates the existence of legitimate cogent reasons or the ascertainment, exercise or defense of a right in court;
ii. processed for direct marketing purposes, including any related profiling.
withdraw consent at any time. Withdrawal of consent does not affect the lawfulness of processing based on consent prior to revocation.
lodge a complaint with the Data Protection Supervisory Authority, Piazza Venezia n. 11 – stairway B, 00186, Rome (RM) or via pec at the address protocollo@pec.gpdp.it – for more information, visit www.garanteprivacy.it.
To exercise the rights provided by the GDPR and summarized above, you must send a written request addressed to material@materialscan.it, or in paper format to MaterialScan S.r.l., Via A. Valerio 6/A, I-34127 Trieste.
Update of the information
This information may change over time. Therefore, it is advisable to check in the Privacy section of the website https://www.materialscan.it/privacy-policy/ that the version referred to is the most up-to-date.
—————————————————————————–
Privacy policy about operation of cookies
Browsing our site, you agree to the use of the browser cookie in accordance with this Cookies Policy. Therefore, we recommend taking a few minutes to read this information.
Cookies are small files sent by the visited sites to the browser used by the user during navigation, which automatically stores them and then send them back to the server each time the user returns to the same website.
In general, cookies can be of various types:
Technical or profiling, depending on the function for which they are used
Of the first party or third parties, depending on who installs them
Of session or persistent, depending on the length
Technical Cookies can be grouped into three types:

Cookie navigation or session, which guarantee the normal navigation and use of the website.
Analytics Cookies, similar to technical cookies when used directly by the site operator or anonymous third party. Analytics Cookies are used to obtain anonymous statistics and aggregate, useful for optimizing sites and services. They are in any case information that does not identify users personally.
Operation Cookies which allow the user browsing in function of a number of selected criteria.
Explanation and details of Technical cookies Our site uses cookies of first parts both during browsing session and does not store any personal information, but anonymizes all sessions. Our site uses third party cookies (Google Analytics) of session without storing any personal information, but anonymizes all sessions. In this regard check https://developers.google.com/analytics/devguides/collection/analyticsjs/cookie-usage
Cookie Profiling
Our site does not use any cookie profiling.
To disable, remove or block cookies by browser you can use the browser settings.
For more information see the pages of "Help" of your browser.